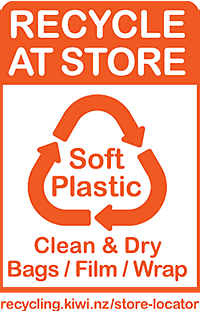 This recycling service is paid for by Soft Plastic Recycling Scheme members including brands, manufacturers, retailers and service providers. Countdown, The Warehouse, New World, Pak'nSave and Huckleberry provide collection facilities at selected stores.
Without their money, this soft plastic collection service and the processing of our soft plastics in New Zealand would not be possible, and we encourage other brands to support the programme. Contact us now about how you can support the programme.
Look Out For The 'Recycle at Store' Logo
More and more brands are now putting our soft plastic recycle at store logo on their packaging to help you know what can be recycled. The New Zealand Soft Plastics Recycling Scheme is now recognised through the Australasian Recycling Label (ARL) Program as an alternative destination. Alternative destinations are locations separate to kerbside recycling where consumers can return their packaging for it to be recovered.
​​​​​​Contact us now for more information about how your company can encourage recycling and put the recycle at store logo onto your packaging.